A local radio icon has passed away from complications due to pneumonia.   Steve Norris began on-air weather forecasting at age 17 for local radio station WAEW-AM/FM. Life-long friend Tony Perry recalls "I was on the air at WAEW radio on a stormy afternoon in 1976 when a young man called me and said 'hey if you wanna know what the weather is going to do I can tell you – I study a lot of weather.  I talked to the manager – Warren Dean – and suggested we put Steve on the air on a regular basis.  Warren talked with Steve and struck a deal for him to do an hourly weather update every day – and the rest is history"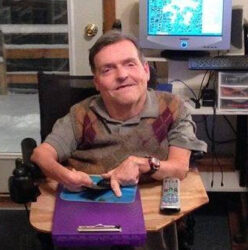 Steve was quite an amazing man – meeting the challenge of muscular dystrophy since birth. He never complained or even mentioned his physical impairments – but was happy to talk weather.  And when Steve talked – people listened. For the past 4 and half decades, there have been thousands of severe storms of all types passing through the area when there was only one voice radio listeners could rely on for continuous weather coverage and that comforting voice was Steve Norris. Steve was always prepared to tell the listeners what to expect and when.  Steve was in constant contact with local law enforcement agencies during impending dangerous weather – having is own portable emergency radio to communicate with authorities. Steve's radio handle was "Weather1".  
 Over the past 46 years Steve has provided live weather updates on several radio stations as a certified meteorologist including his most recent position as staff meteorologist for 3B Media stations 105.7 The HOG, 93.3 The Ranch, Spirit 101.9, 98.9 The WOLF and 94.1 The VIBE. Steve has been the staff meteorologist on 105.7 The HOG radio station since June of 2003.  Steve has also provided weather forecasts for many other radio stations and newspapers over the years.  Steve has been featured on Knoxville TV stations for his weather coverage including being spotlighted by Margie Ison – Weather reporter for years at WATE-TV and WBIR-TV.
Steve passed away at Cumberland Medical Center at age 63 this morning after being treated for the past week for his illness. Services will be announced later.  Steve Norris will surely be missed.